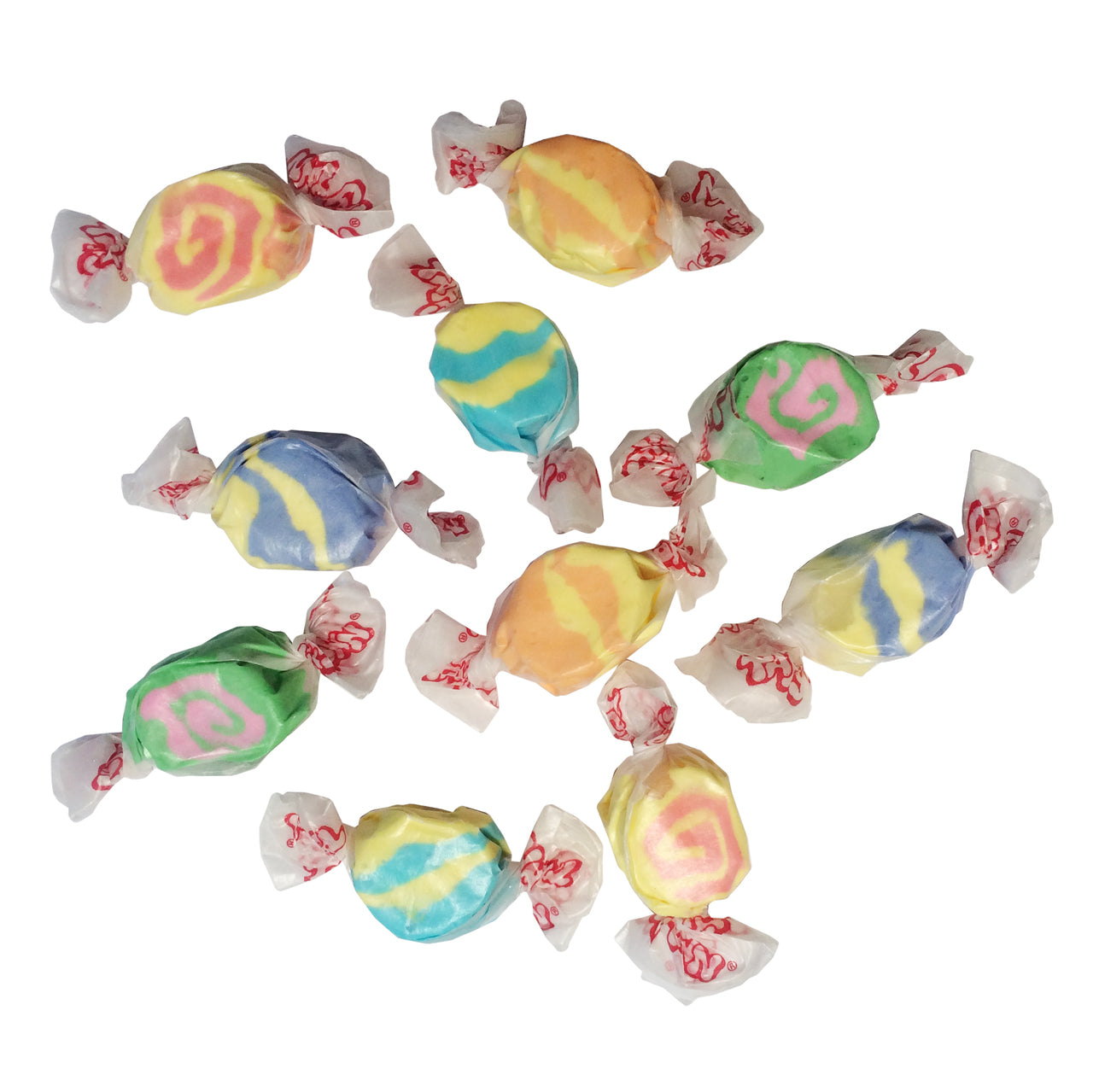 Taffy Shop Favorites Mix Made for you, by you. 22 Flavors.
So you've come to Taffy Shop looking for the world's best salt water taffy.  But then it hits you. What?...... Over 70 flavors?  How on earth are you going to choose!  Yeah, we feel ya!  But no worries!  We've got your back!  That's why we've created the Taffy Shop Favorites Mix!  
This mix was made for YOU because it was made by YOU..... our incredibly wonderful customers. We get to see the delicious flavors most commonly picked so we created a mix that is right up your alley!  It's filled with 22 of some of the most delicious flavors!  Perfect for the decidedly indecisive of us all. It's a great way to sample as many flavors as you can!  Then you can decide which is your top favorite.  But beware, they all might end up being your favorite!  That happens a lot around here!  
Which brings me to the latest poll we've taken recently of our Taffy Shop Family!  We get asked quite a bit what flavor is our favorite.  That's a hard thing to do!  So, I gave a homework assignment to everyone to weigh-in on their own Taffy Shop favorite and why.  Here's what we've come up with:
"Piña Colada - Cuz it tastes good."  - Brooke
"Whipped Honey - It's like a Bit-O-Honey!  It's a light flavor and isn't overpowering which I love!  That might be a bad thing though because I'll never stop eating it!"  - Hannah
"Caramel Apple - its creamy rich exterior combined with the slightly sour interior is perfect.  Like a unicorn puppy, rare but perfect."  - Jeff
"Birthday Cake Cake - Who doesn't love a birthday?" - Kelli
"Frozen Hot Chocolate - it's fluffy and tastes like the real thing!" - Kate
"Sassy Sours - I love it because it's sour but it's just the right amount of sour!"   - Molly
"Green Sassy - Sour Apple.....it's sweet AND sour!  It's yummy!" - Keat
"Grape Sassy - Mmmmm Grape..... and pair that with sour?.... you're speaking my language!" - Jessica
"Cran-Raspberry - I love cranberries and it adds the perfect tartness to this taffy flavor!" - Erin 
"Fresh Strawberry - it's soft, sweet and smells like the read deal.  My doctor said I need to eat more fruit and this is my way of getting my fruits in for the day..... ;o)" - Jed
Now, before we finish this list, we have one more person to poll.  If you ever get the chance to visit our warehouse here in St. George, UT, then your trip isn't complete until you've met our next door neighbor, Mike.  King of Raceway Crown.   This "Dude" is awesome!  When you work this close to the best tasting taffy, you can't help but drop-in daily with a "What's up, Dude?" and occasionally buy a bag or 10!  So we polled him and here's a couple of things he's had to say:
"Dude! I'm telling you!  Passion Fruit!  It's up there!" - Mike
But he couldn't make up his mind.  So we let him add another.....
"Cherry Limeade - the green one in the mix. You've got to get the Flavored Lemonades somewhere on that list." - Mike 
So there you have it!  Our Taffy Shop Favorites Mix and our Taffy Shop Favorites all together!  Ahhh!  Perfect! The world is just as it should be!