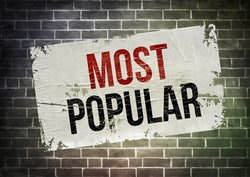 The Most Popular Flavor of Salt Water Taffy?
If you look on the homepage of our website (TaffyShop.com), you will notice a list of our best sellers running down the right side of the page. You can see that the ''Create Your Own Assortment' options are really popular, in fact they account for three out of our four top sellers. This doesn't really come as too much of a surprise though, with over 70 flavors of salt water taffy to choose from, we find that people prefer to mix and match to create their own perfect assortment. And we love this! We love that we have a huge variety of traditional and unique taffy flavors to choose from, and we love that you all have your own favorites. 
One interesting note about this though—well, at least we think it's kind of interesting—all of our assortments sort of skew the sales data when it comes to individual flavors, since they don't include the single flavors being picked in the various assortments. So while Vanilla shows up as our most popular individual flavor, it is actually just the flavor that is purchased by itself the most often. All that this really means is that it is difficult to distinguish the true 'favorite' of all the salt water taffy flavors we offer by looking at our best sellers list. Hey, nobody said we're solving the world's problems here, we just deal in taffy.
So if you're curious about the flavors that all of you think are the best, we have the data to tell you, taking into account all individual sales, create your own assortment sales, and pre-built assortment sales. Without further ado, here are our (really they are yours) top 10 best selling flavors of salt water taffy:
Peppermint is the winner! Personally, I am a little disappointed that Caramel Apple didn't make the list, but that's neither here nor there. One thing we can all agree on is that Taffy Shop salt water taffy really is the best taffy in the entire world (we will seek to prove this and share the results at a later time). Enjoy!