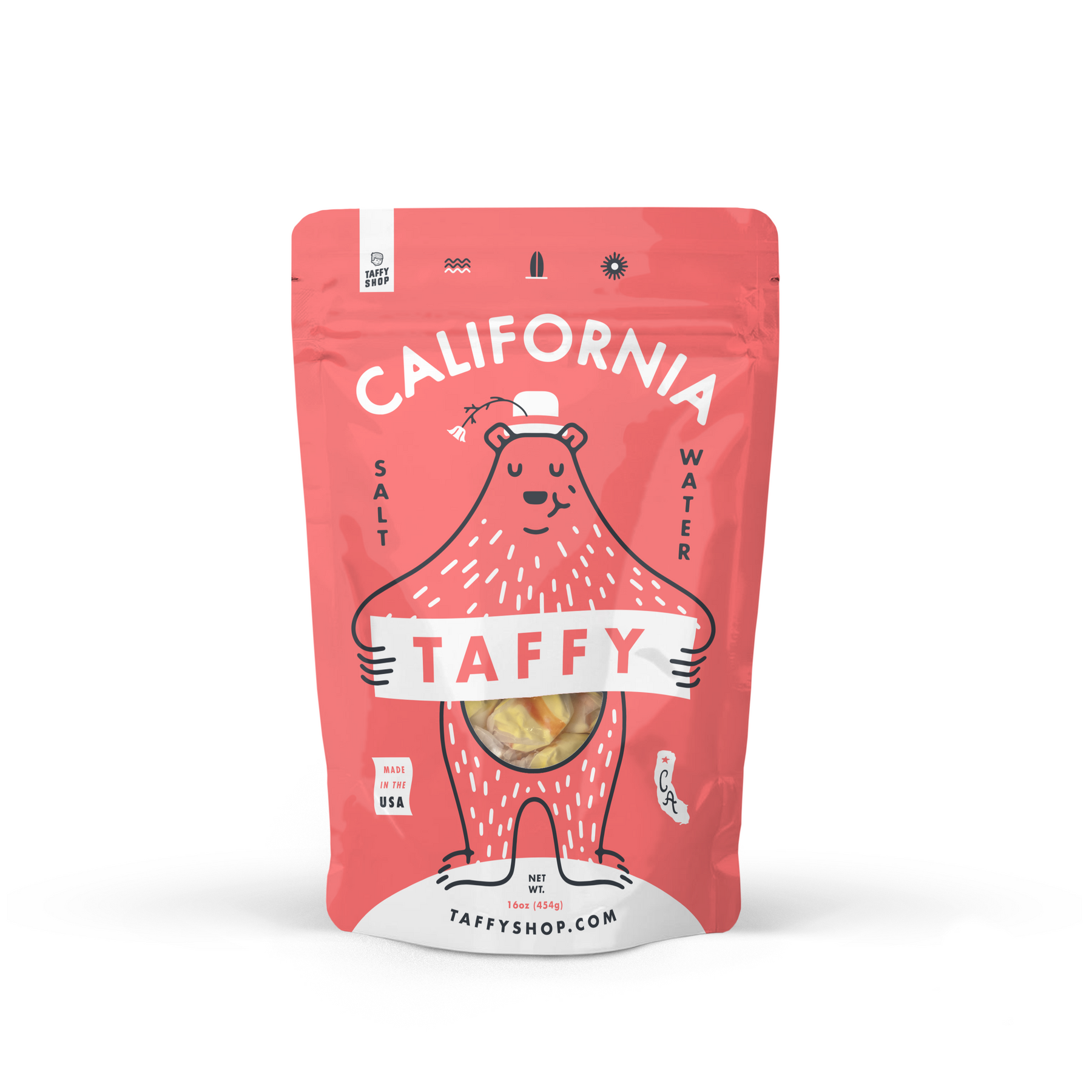 The Surf - The Sand - The Sun, bring on the memories!
Taffy Shop is located in sunny St. George,.....UTAH!   So why do we have a CALIFORNIA themed bag of our delicious, gourmet salt water taffy? It's simple....we love the surf, the sand and the sun! But more importantly, our business is growing leaps and bounds! 
We've grown from a small concession stand on the shores of the Great Salt Lake to shores of the World Wide Web. Our distribution continues to grow and we can be found in airports, grocery stores, convenience stores, flower shops, restaurants, antique shops, gift/souvenir shops, and many other amazing places across the country including.....sunny California!
A couple of us here on the Taffy Shop team have called California our home at one time or another and we still reserve a piece of that awesome state in our hearts!  And because of that, we totally get the stereotypes that are said about our childhood home state.  So we've found a fun article online about 30 signs that you have California in your veins.  We thought we'd share our top 10 favorites with you! 
#1 - Speaking of speaking, the California accent can be described by making statements into questions? You know,  kind of like this? Bringing everything you say up a few octaves? At the end?
#2 - San Francisco is NOT "Cisco".  Use shorthand like this and you might as well be wearing a tropical flower shirt  with a fanny pack, binoculars, and a stack of post cards sticking out of your front pocket. 
#3 - Of course you recycle!  Is there any other way to live?
#4 - To you, earthquakes are as ho-hum as scrolling through everyone's baby pictures on Throwback-Thursday #tbt,  but when it rains? Watch out. By the way Californians react to a rainy day forecast, you'd think the rain was              made of acid.
#5 - You know you're a California native when you know what this means - "Hey - take the 405 to the 73 to the 5 to    the 55, or you can take the 73 most of the way, but it'll cost you your first born.
#6 - You never miss an opportunity to gloat to your out-of-towner friends that you have In-N-Out Burger and they        don't.  (Disclaimer - Not so fast California.... Utah has a few of these now!)
#7 - You are a gluten-free-dairy-free vegan - or if you're not, you have been at some point or will be in the future.
#8 - If the weather gets below 60, you bust out with the ski jacket, because it's FREEZING.
#9 - Your teacup dog has its own circle of peers. They hooked up in Doggie Yoga.
#10 - Whether you're from NorCal or SoCal, you claim your half of the state is the best. And you're both right. 
Why is there a Golden Poppy flower in that bears hat? Maybe he's letting you know how fresh our taffy is? Wait, why is that bear wearing a hat? Sometimes life can be so confusing. If you 'bearly' made it through the week, this taffy is guaranteed to cheer you up! Save energy, hibernate and cuddle up on the couch with a bag of this taffy and enjoy this special mix made just for you!