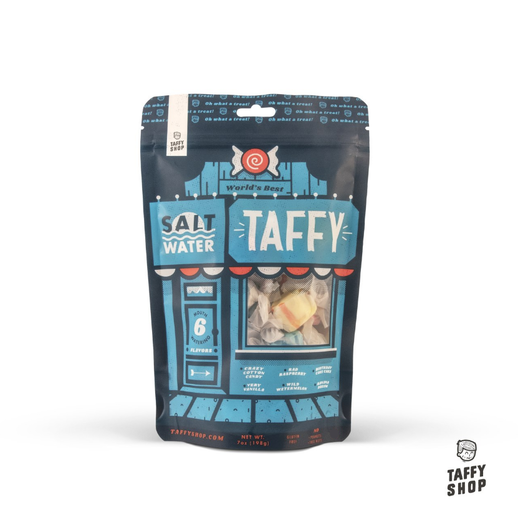 Why Is Our Taffy So Good? Taffy Shop is the name.
Have you ever tasted the World's Best Salt Water Taffy? If you haven't, what are you waiting for?
We've been selling taffy for over 20 years and people always ask us why our taffy is so good. We tell them the same thing every time.
It's the nostalgic memories that take you back to boardwalks, beaches and the sweet sound of childhood when you unwrap it. It's the smile that comes from enjoying the simplicity of our mouth watering treat. That is what makes our taffy so good!
Super Soft Texture: Because of our small batches we whip our taffy to the perfect softness.
Proprietary Flavoring: We won't bore you with the details, but just know we've been at this for 20 years.
Over 70 Flavors:  Mix and match to your heart's content!
Small Batch Whipping: Thanks to our 24-hour whipping process, our small batch taffy is light and oh                                                                                                so soft.
Just imagine the sand in your toes, the warmth of the sun on your face, the sound of ocean waves crashing in the distance, unwrapping the soft piece of deliciousness and enjoying that sweet taste of summer... ahhhhhhh!
What? No beach vacation in your near future? No worries! We can always bring the sweet taste of summer to you. We've got your back!  Well, you'll have to get someone else to rub the sunblock on your back, but you know what we mean! ;)