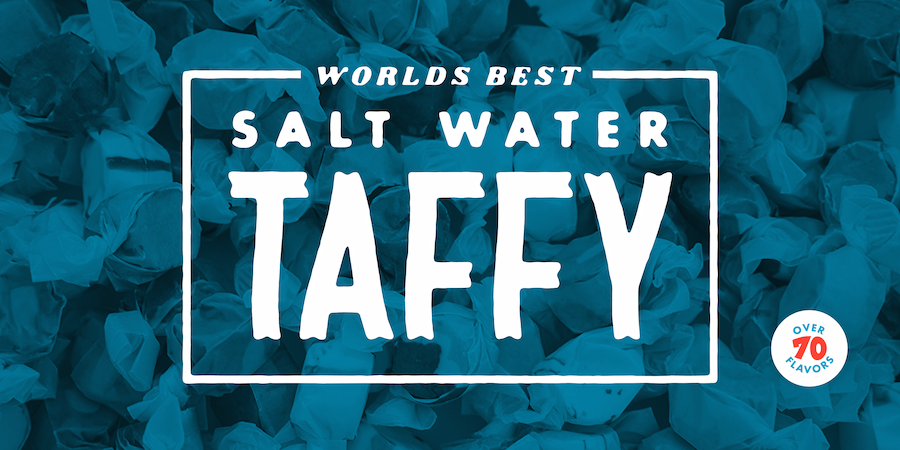 Goodbye 2017 & Hello 2018, its a new year are we are excited
Phew!  What a whirlwind 2017 has been for the Taffy Shop!  First and foremost, we want to thank you, the best customers in the world.  You are helping us live our dream and 2017 was a breakthrough year for us.  Here are a few highlights:
Updated branding including new logo, colors, icons, etc.
A new website that is mobile friendly.  We now receive over 40% of orders from mobile devices such as phones and tablets.
New taffy bags.  Not only do they look amazing, but they help keep your taffy fresher longer.  
Two new flavors: welcome Peanut Butter and PB &J.  These flavors were a proud moment for us.  It's taken years to be able to offer "nut" flavored taffy to taste just right without actually using nuts.  It's important to us that we keep our factory free of nuts (the edible kind of nut...the rest of us at the Taffy Shop are just plain nuts :)  
New themed bags including: Unicorn Poop, The World's Best Mix, and Santa Snax.  
A long-distance move, a new warehouse, and new equipment.  We moved to a new facility that allows us to be much more efficient and is temperature controlled to better keep your taffy fresh.  In addition, we bought new bagging equipment, a fork lift (yet to be named), new packing stations, and a whole lot more.  
20-Year Taffiversary: we've grown from a small concession stand on the shores of the Great Salt Lake to shores of the World Wide Web.  Our distribution continues to grow and we can be found in airports, grocery stores, convenience stores, flower shops, restaurants, antique shops, gift/souvenir shops, and many other amazing shops. 
We also began testing a new vendor program (coming in 2018) where we will offer a "business in a box" for people that want to sell at vendor shows (craft fairs, farmer markets, city celebrations, expos, etc..)
 And lastly, we have hired a lot of amazing people.  You'll get to know them better in 2018, but just know that they are incredibly creative, incredibly dedicated, incredibly funny, incredibly talented, and incredibly yours.  They love making people smile.  They love treating others.  They live by our motto of "Oh, what a treat!".  You are in their good hands.  
Thank you for an amazing 2017!  It was a record breaking year for the Taffy Shop.  We have grand plans for 2018 and want to make sure that we take care of you.  We thank you for supporting us.  To you, we would like to propose a toast.  Cheers to the best customers in the world.  Here's to another fantastic year.  Let's make 2018 one to remember!  Cheers!